Khammam GNU/Linux Users Group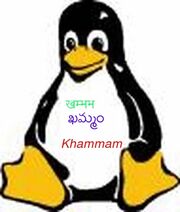 Started as a yahoo group with three volunteers
Also expanded to orkut community . Pavithran and vijay katta organised Software Freedom Day on september 2006. Khammam GLUG as a part of campus initiatives has expanded to two campuses of well established engineering colleges. One Was at Sree Kavitha Engineering College and the other is at Vazir Sultan College of Engineering.
A active volunteer, Ravindra raj has joined the group , currently is the admin of FOSS@SKEC group. Pratyush Kothuru and Chava Kiran who were the old members of the community also have started actively participating and the mailing list is now very active .
ExternalLinks
Edit
Ad blocker interference detected!
Wikia is a free-to-use site that makes money from advertising. We have a modified experience for viewers using ad blockers

Wikia is not accessible if you've made further modifications. Remove the custom ad blocker rule(s) and the page will load as expected.